Worldwide impact
As a B Corp (Benefit Corporation) we're part of a worldwide community. The movement started in 2006 in America, and has now been active in the Netherlands for more than seven years. Companies such as Fairphone, Tony Chocolonely's, Dopper, Triodos Bank and Patagonia are just some amongst the community. Quite impressive, if we say so ourselves, because to become B Corp certified, your company will undergo an extensive accreditation. Good intentions are not enough here, they take a thorough look at the positive impact your company actually realizes.
To be a B Corp shortly means: people and planet are more important than profit. This means we use our social and societal impact as the primary benchmarks to measure our success. Of course you have to be financially healthy to reach those social and societal goals. Luckily we've found the perfect balance between purpose and profit.
B Corp Assessment
With the B Impact Assessment we've taken a thorough look at our organization and were rated on five areas: management, clients, employees, environment and community. To become B Corp certified you have to score at least 80 (of the 200) points. To name some examples, Patagonia got a B Corp certification in 2011 with a score of 107.3. At the moment, they even score 151.5 points. We're proud of our score of 91.8, but there's still room for improvement!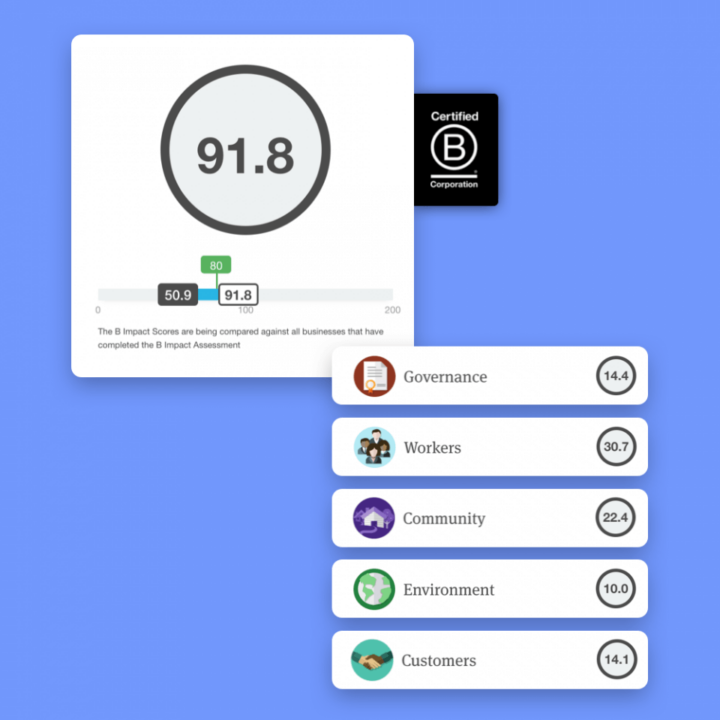 This is how we create impact
Profit: We use profit as a means to achieve social and societal impact, both for ourselves and for our clients.
People: Everyone that works at Multitude is personally invested in our mission, and creates impact in their own way. We often work pro bono for valuable initiatives the world benefits from, who don't have financial means to pay a creative agency. In 2020, we started donating 1% of our profits to foundations and NGO's every year. We also offer our services at a discount to disadvantaged groups. Because everybody with a good idea that can change the world, deserves support. 
But we're not there yet
Being certified once, doesn't mean you'll stay certified. Every 3 years we have to renew our accreditation, just like everybody else in the B Corp community. This keeps us on our toes to work on an even better score next time. At the moment, we're spending extra time looking into our diversity goals, involving our clients more to increase our impact, and reduce our ecological footprint. 
Read more on what being a B Corp can mean for you